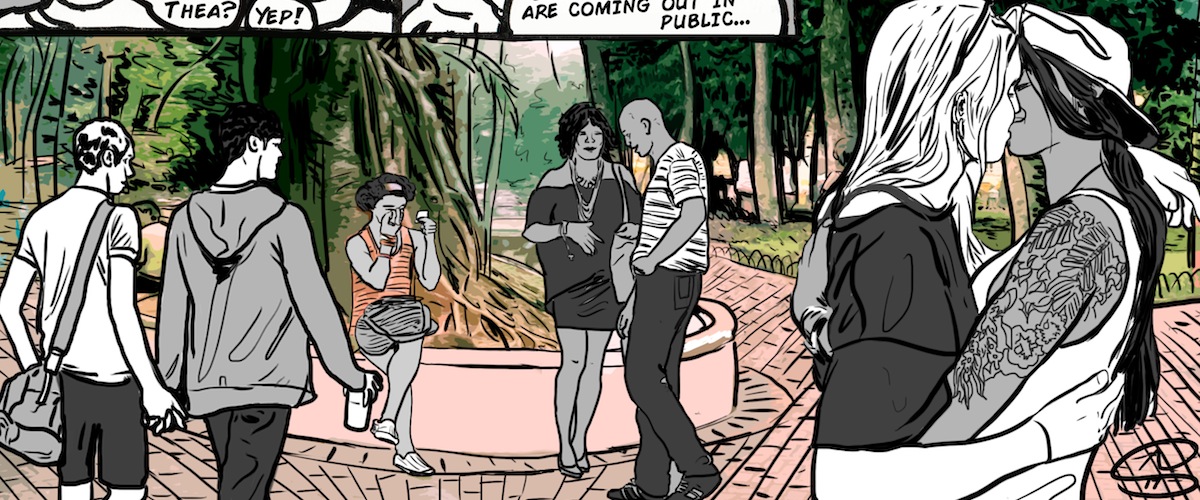 A collection of essays, artistic contributions, and two inserted zines, "Cidade Queer, uma Leitora" was developed as part of an 18-month inquiry in São Paulo. Initiated by Lanchonete.org and ArtsEverywhere/Musagetes, the Cidade Queer program was a broad collective inquiry into how can we understand the contemporary city through a queer, intersectional, non-normative lens. The program included a series of encounters, dinners, residencies, and performances, and "Cidade Queer, uma Leitora" reconfigures these moments into a new form, extending the inquiry trans-nationally. The Reader was edited by Júlia Ayerbe and designed by Laura Daviña of Edições Aurora/Publication Studio São Paulo. Order a copy in Portuguese or English online. The following graphic work is a complementary, web-only contribution by one of the authors in the Reader.
---
This graphic novella was commissioned by ArtsEverywhere and Lanchonete.org to document the Queer City Project during the International Queer Film Festival in November 2016 in São Paulo, Brazil. While taking part in the Queer City events and finding a lack of Lesbians involved, a humorous idea emerged of the complexity of trying to find them. Questions came up about what constitutes the elusiveness of Lesbians? Why are they more hidden than other Queers? I remembered all the times I've tried to find Lesbians in my life and juxtaposed that with the experiences of the Lesbians I interviewed in São Paulo. In São Paulo, just as in other places, once you find Lesbians and spend an evening with them, they can quickly become close friends. It's the finding them that is the tricky part! You have to go out of your way because you usually just don't come across them. In making this novella, I discovered some answers for this phenomenon.
I think the experience of being a Lesbian and of growing up as a woman in a Patriarchal society can't be separated. As a Lesbian, you are automatically treated like a double minority and therefore the instinct is to hide. Yet, there is no denying that because of this condition, some of the most ardent Feminist activists, who have paved the way for women's rights, have been Lesbian. This psychology is even more prevalent in young Lesbians today who are pushing back against Patriarchy and tradition.
I didn't get to include this story in the Novella so I'll tell it here because I think it illustrates my point well.
I was shocked to see teenaged Lesbian couples who were usually a combination of a very femme girl and a Boi walking and holding hands in a trendy Tokyo looking area of Taipei. I remember asking a Gay Taiwanese friend, who was in the closet and dealing with the pressure of being the eldest son to procreate and carry on the family name, how Lesbians had so much freedom there in public. He said, "They are women and nobody here cares what women do…until they reach the age of marriage of course." I was amazed to hear that in this hyper-Patriarchal culture and through this misogynist lens, Lesbians are finding more freedom to express themselves in public.
---
Page 1
Page 2
Page 3
Article originally published on ArtsEverywhere on March 14th, 2017