One luv ends and another begins; HIV2020; etc.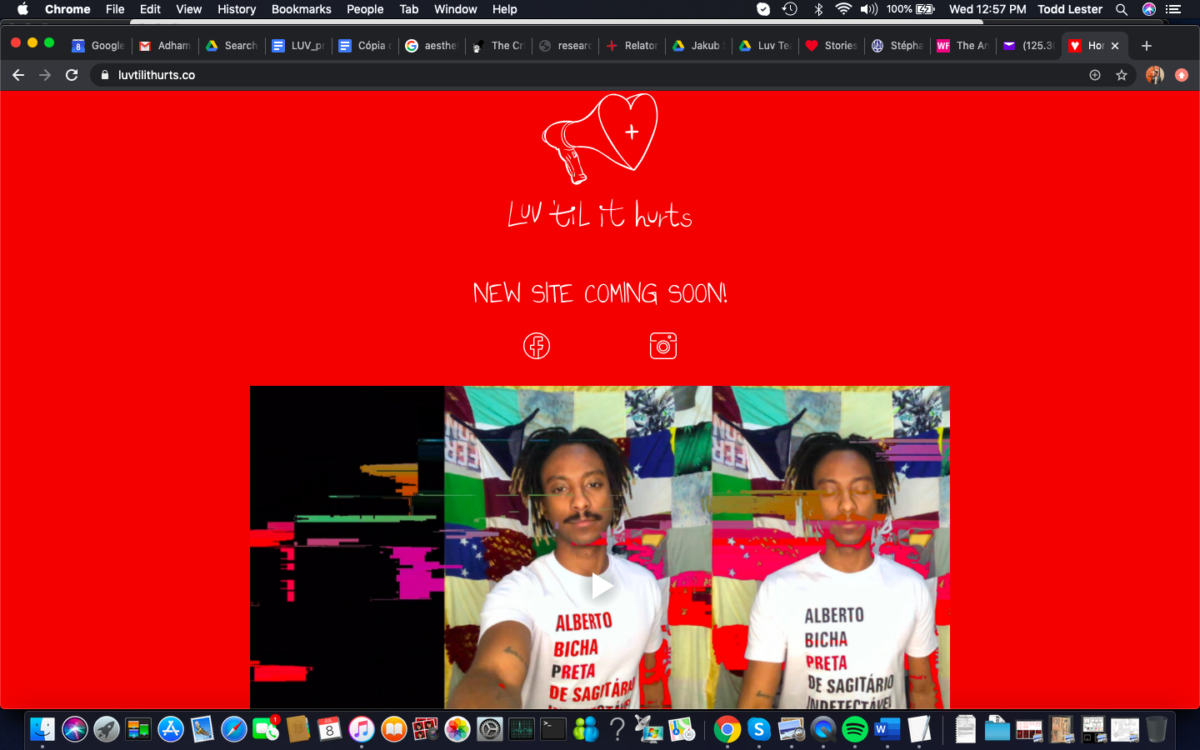 Originally HIV2020 was to be held in Mexico City as an alternate meeting to AIDS2020 that was to be held in San Francisco. The biennial AIDS conference is a big show, and cities compete to host it for its business. There's a tenet of the meeting that it alternates between 'north' and 'south' countries. AIDS2018 was in Amsterdam, but for some reason the decision that it be in San Francisco was made, which in turn gave rise to HIV2020. Luv 'til it Hurts was launched at AIDS2018 with a postcard series by the artist Kairon Liu and his project, Humans as Hosts. And, since it's a two-year project (at first), we have a major milestone now two years later as both AIDS2020 and HIV2020 go totally online due to COVID19.

The ANKH Association and Luv-affiliated artist, Alberto Pereira Jr. proposed a physical exhibition and live performance respectively for HIV2020 under the title 'Luv 'til It Hurts: Experiences from Egypt & Brazil' (and before COVID19 struck). These are now both online in the virtual art exhibit convened by HIV2020. See:  https://www.hiv2020.org/hiv2020-ope-005

Back when HIV2020 was to be a physical event in Mexico City, we were considering how to pay for travel, registration and lodging. For lodging, the project Human Hotel by Danish duo Wooloo offered to help find housing using their local network in Mexico DF. A big THANKS to Wooloo for offering this, and a big CONGRATS to Ankh Association and Alberto Pereira Jr. for their entries to HIV2020 Online!!!
Luv 'til it Hurts began as a two-year, uncharted project about HIV and Stigma. An odyssey, of sorts. Yet, a limited set of questions. A discussion that grew into a team. Its next-life is aligned with our urgency to keep talking… talking in different directions and including others. The experience of many, once a minefield of individual fears, instigates the rumbling of collective production power. We're gathering our ideas on a common table, and planning for a future whose hope is in the disruption of our present. We are convinced that to strategize our next steps we need more than single linear energies, but a group, a multitude of voices prepared to sing (and shout), to harmonize and also disarrange. Luv 'til it Hurts is a platform for real bodies to come onboard and co-pilot its playful unfolding, one set of interaction generating the next. Alberto Pereira Jr. (Brasil), Brad Walrond, Paula Nishijima, Todd Lanier Lester, Every Where Alien (US), ANKH Association (Egypt), Humans as Hosts (Taiwan), Love Positive Women, Nhimbe Trust (Zimbabwe), Luciérnagas (Colombia) … and morphing. Embark immediately*!
[*We invite you to check out the new website (www.luvtilithurts.co) that sprang up around the two-year mark. Right now Alberto's video performance is holding space there, but by the end of July the whole site will be in plain view. And, you will see what we're thinking about for the future of luv.]