remembering my first AIDS work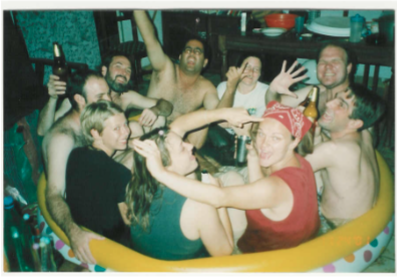 I cannot remember what was my first AIDS work. It was either flying from Cameroon to South Africa with my wife (at the time) to attend and volunteer at the Durban AIDS Conference in 2000, or walking with Minette and 'her girls' on International AIDS Day (1999 or 2000?) on the dirt roads of Batouri in the East Province of Cameroon.

The AIDS Conference was heady given its location. I remember talks by both Nelson and Winnie Mandela as well as Justice Edwin Cameron. Among other things. Zackie Achmat and the Treatment Action Campaign loom large in my memory.

Minette befriended my wife and I soon after we arrived in Batouri as Peace Corps Volunteers. She is a madame and had the most prominently placed bar for truckers to meet 'her girls' (as she called them). She is also a very good cook. As I was passing straight at the time, and newly speaking French, I guess there was some flirtation that transpired between she and I. HIV/AIDS was not our official work as volunteers, but we ended up doing a lot on it in those years (1999-2002). I would move to Bangui (Central African Republic) for a while at the end of our stay to make a project for Population Services International. The regional director (based in Yaoundé whose wife ran the chimpanzee sanctuary near Batouri, and closer to where the Chad-Cameroon pipeline was 'coming through' and spiking HIV rates as large construction projects can) noticed what I was doing in Batouri and Bertoua at the intersection of public health and media. We drank together one night and he almost dared me to go to CAR to make a multimedia campaign (TV, radio, billboard) in both Sango and French for their new 'socially marketed' condom. I accepted and then called him the next day excitedly to make sure he wasn't bluffing … or remembered what he offered. This is of course where I fawned over Eriq Ebouaney at the hotel bar during the making of Le silence de la forêt.
My wife and I (small/medium business vols) banded together with water sanitation, English and health volunteers living nearby to make public health programming, and specifically HIV/AIDS sensitization. She was already quite focused on her public health career. At the end of our term, it was with PSI and UNICEF that we had a province-wide cultural festival in Bertoua on World AIDS Day. Jay and I traveled from Yaoundé by bus and there is the picture of him in a blow-up pool in the group house in the provincial capital, Bertoua… where it could get quite hot. 

On World AIDS Day (in 1999 or 2000) we walked a square (or the square) of the town. We marched even. We had AIDS Day t-shirts. And, maybe Minette had a banner with the name of her 'association'. The sex workers who worked for Minette liked us too. We shared mutual respect, I remember. They helped new gringos feel welcome in a small, rough logging town. Minette is a good cook. 

Once I went there with our tupperware to get some lunch. Maybe I was getting it for Bethani too, or maybe just me. Minette called me into her bedroom, the room adjacent to kitchen /serving room. She lifted up the mattress on her single bed. It reminded me of a time my father tried to enthuse me by letting me get close to a still-writhing poisonous snake he'd just killed. When it startled me instead. 

I don't know what Minette was serving that day (usually one domestic and one bush meat with fixings). Under her mattress was a hobbled Pangolin. She wanted me to see what would be for supper. 
*See HIV-related activities in relation to Lanchonete.org: Arte, Saúde Pública e Estratégias de enfrentamento à Epidemia da Aids and Vidas/corpos com HIV.