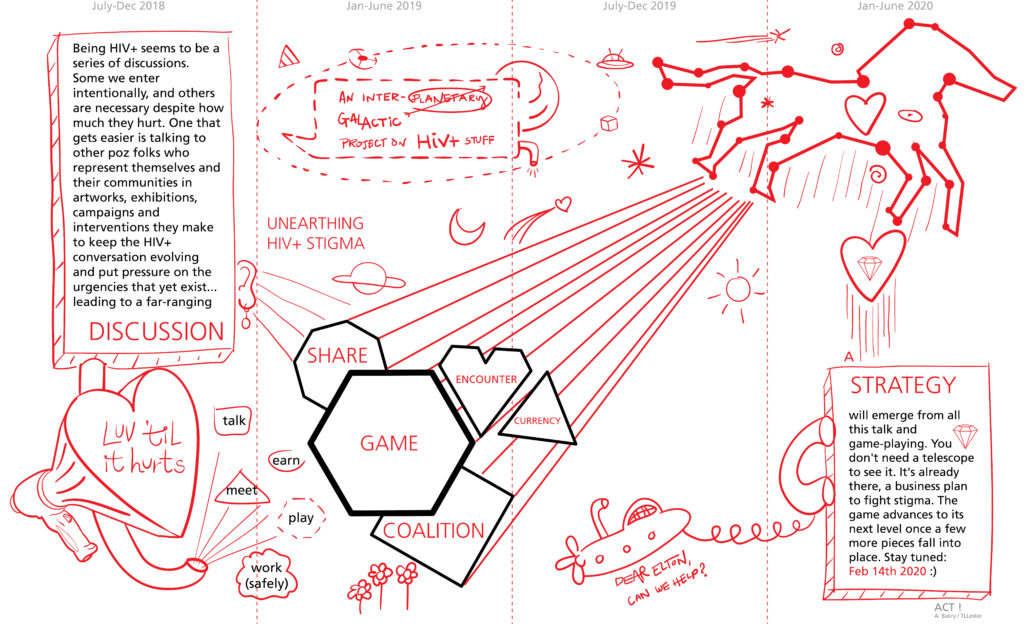 Behind the curtain "أنا مريضة إيدز ونفسى أتعامل كبنى آدمة، معملتش حاجة غلط علشان المجتمع ينبذنى ولما بمرض مش بلاقى دكتور يعاملنى كويس، وبقيت أخاف من الناس فاضطرت لارتداء النقاب خوفا من تعرف الناس على شخصيتى عند اللجوء لتلقى العلاج. " "فى عام 2006 ظهرت الأعراض الأولية كإسهال وترجيع وسخونية، وفقدت الكثير من وزنى فبعد…
Laboratorio Luciérnagas Relatoría 24 Agosto sesión #6 disidencia sonora artista invitado: Mauricio Rivera Henao lugar: Adorno – Liberia Relatoría: Mauricio Rivera es artista sonoro, también trabaja con video e instalaciones. Tiene una pregunta constante por el territorio. Disidencia = contra hegemónico Obra: un diálogo con el lago Titicaca Paisaje sonoro: retratar los paisajes en término…
[*I totally misunderstood what you wanted me to do with the 'Proust Questionnaire' and just answered the original. I get it now … you're gonna ask me these questions in a new fresh way. Is that it? Go ahead, and we'll link my new fresh answers here!] hey ego sum frank (aka Dr. Prof. ego…
HIV2020: Community Reclaiming the Global ResponseMexico City, July 6-8, 2020www.hiv2020.org —Background— Human rights conditions in the United States of America (U.S.) have worsened, since the presidential election of Donald Trump. This is especially true for immigrants from Muslim, African, Caribbean and Latin American countries, as well as for people of color, people who use drugs,…
Continue Reading LUV is an Endorser of the HIV2020 Conference in Mexico City
Laboratorio Luciérnagas Relatoría 27 Julio sesión #4 Arte y fronteras políticas Invitadas: Melissa Guevara Artista Laura Echeverri Abogada derechos humanos Relatoría: Melisa Guevara es artista Salvadoreña. Habló del libro "Luciérnagas en el Mozote" que contiene narraciones y testimonios sobre la masacre (1981) mas grande que ha sucedió en américa latina, 900 muertos perpetrados por…
You've all heard about the gay content shows being cancelled or censored all over Brasil. Maybe you heard of the Sexualities show at MASP a couple years back as well. MASP is a big institution. It gets big-named curators. And a lot of attention. Just now there is a theatre piece on HIV being censored in São Paulo. …
Laboratorio Luciérnagas Relatoría 13 Julio sesión #3 Arte / VIH Invitados: Fernando Arias José Fernando Serrano Juan Betancurth Relatoría: Fernando habló de su proyecto de residencias Más arte más acción. Dice que para el arte debe accionar. También habló de la importancia de la crítica En diálogo con José Fernando se tocaron los siguientes temas:…
A guy from Mexico contracted HIV. We had condomless sex. I remember this well. Some four years after our hook-up he contacted me because of Luv 'til it Hurts. He wanted to catch up. He wanted to know when I contracted HIV. He needed to dispel an idea that maybe he had carried HIV since…
Laboratorio LuciérnagasRelatoría 15 junio sesión #1 Contexto del cuerpo en las Artes (para artistas y no artistas) Escuchamos la pieza sonora de John Cage "canción para Marcel Duchamp".Hicimos cuadernos de notas para tomar anotaciones.¿Por qué del laboratorio? Lineamientos.Cada uno habló de cómo se relaciona con los contenidos del laboratorioContexto del cuerpo en las artes: Body…
Continue Reading Relatoría Sesión #1 – Contexto del cuerpo en las Artes
Hi Deza, I've been thinking about something and I'd like to share it. Perhaps these are thoughts that go into the production of a short video clip. While I don't pretend to know how to edit such a thing, and barely know how to turn my camera on (something I don't often do for skypes). I…
A discussion to be accountable to … Luv 'til it Hurts is about HIV and stigma. Discussion, campaign, mechanism, agency. All of these words describe the vision for Luv 'til it Hurts. Yet, if it becomes nothing more than a discussion to be accountable to, then it has succeeded. It should have this accountability first…
Continue Reading 1st 'About' page: A discussion to be accountable to
My name is Todd Lanier Lester and I started the project, Luv 'til it Hurts, a two-year project on HIV & stigma. The Think Twice Collective has agreed to join the LUV 'coalition' … I'll explain what that is along the way, but just wanted to say thanks for being in an open-ended conversation with…
Introduction In "A Conversation with Eric Rhein," an interview on this website, Eric was asked about some writing he'd done: a text which corresponds with many of the themes in his recent exhibition, Lifelines. Eric followed-up with this memoir, written in 1998, and we are happy that he's shared it with us here. The Gatheringby…
Hi Deza, Luv 'til it Hurts is a two-year project focused on HIV and Stigma. CHAOS is a campaign about mental health. As a person who has a chronic mental health condition as well as HIV, it is easy for me to consider and 'internalize' how my mental state and HIV 'get along' within me.…
Luciérnagas Laboratorio: Arte | fronteras | VIH proyecto de arte por Daniel Santiago Salguero Querido Todd. Respondiendo a tus preguntas del último correo te cuento: Efectivamente la crisis Venezolana ha traído una cantidad inmensa de personas de Venezuela a Colombia. Es la migración interna más grande en la historia reciente de Sur América. Se habla de…
Conceived by Luv 'til it Hurts participants during a design workshop in Port Said, Egypt, the LUV_GAME is inspired by The Long Table, a performance process by Lois Weaver. The game is designed for art world and non-art world venues … public, private and super private spaces. At the same time it may be available…
New York based artist Eric Rhein speaks about his two exhibits, Lifelines, whichhave been on view in his home state of Kentucky.Lifelines is an exhibition at two locations in Lexington: at Institute 193 throughJuly 27 th , and the Lexington's 21c Museum Hotel, through the end of August.Todd Lanier Lester, of the Luv 'til it…
TL: Hi Deza .. we've known each other for over a decade now and met through my beloved Cameroonian network and when I was making freeDimensional. You are based in Paris and FULL STOP, I admire your work. When I met you, you had just placed beautiful portraits on Paris city buses of people that…
Luv 'til it Hurts is the third in a series of durational, multi-stakeholder, rights-focused art works: freeDimensional (2003-12), Lanchonete.org (2013-17), and LUV (2018-20). In Why Make an 'Open Work'? I discuss some of the logic around stakeholder recruitment. Between the first and second, the first and third, and the second and third projects, I have invited cross-over stakeholders. For example, Adham…
Lundi 1er juillet, à l'initiative de l' Egyptian Commission for Rights and Freedoms (ECRF), ANKH (Arab Network for Knowledge about Human rights), Cairo Institute for Human Rights Studies (CIHRS) et avec le soutien d'EuroMed Rights, la Fédération Internationale des ligues des Droits de L'Homme, et la Ligue des Droits de l'Homme, s'est tenue une conférence…
Continue Reading Pour La Libération Immédiate de Malak El-Kashif!
TL: A mutual friend and queer activist in Cairo was helping me find a place to stay in Paris only a few days before my trip. I somehow end up sleeping on your couch in the suburbs of Paris. You two make the Ankh Association that supports LGBTQQI and HIV+ folks in the Middle East…
I launched Luv 'til it Hurts, a long-considered project on HIV and stigma in July 2018. The project goes through the middle of 2020 officially, and yet I'm also quite interested in the afterlife of projects. DURATION is important to me for reasons I'll explain later, and based on specific methods drawn from the community…
Our partner Eric Rhein opens a beautiful exhibition at Institute 193, showing from June 19 – July 24. Don't miss it! See: Institute 193's Facebook event
[*Before Pony Zion took part in Cidade Queer and Luv 'til it Hurts, I had the opportunity to attend one of his workshops in Lecce, Italy. xot] In his own words, Pony Zion describes his motivation for sharing his dance performance and choreography on the occasion of Luv 'til it Hurts' NYC launch: "This is one…
Continue Reading House of Zion Debut at Luv 'Til It Hurts Launch
See also: Luv 'Til It Hurts: the Launch, by Brad Walrond
Luv 'Til It Hurts was formally launched October 27, 2018 at the historic LGBTQ Center in New York City. In keeping with Luv 'til it Hurts stated mission, ''to be a porous container, it aspires to 'hold' people together long enough for essential introductions and exchange ideas'' for me at the time of this writing,…
I. When I was raped, first he bought me cigarettes. Both of us hilariously drunk, he followed me into the bathroom, came up behind, then yanked my pants down and pushed me into the tub. This was at some rich girl's apartment downtown. When we were invited to the same wedding (years later) and I…
We do not tread the way that is conducted by reason! The white-born reason, from white Greece… So pale and thirsting for blood… Reason built insane asylums and raised prisons… It is necessary to be very rational to calculate punishments, as long as productivity does not decline, and faith remains… Yes, even faith becomes inebriated…
Continue Reading We Do Not Tread The Way That Is Conducted By Reason
By Ayu Oktariani I was living with HIV for 8 years when I decide to pregnant. It's been a long journey to make that decision. Waiting for the man who understand each other and want to take responsibility of having a child free from HIV. My husband is HIV Negative, so of course it's easier…
Continue Reading Mandala Art and the Story Behind How I Made It
Joyce McDonald is an artist in many senses of the word. She is, of course, a literal artist: a talented painter and sculptor whose works often capture in stark relief the gamut of emotions she's experienced throughout her colorful life. Joyce is also a weaver of words: not just as a poet or a songwriter (she…
My art practice has always been tied into what is happening around me. I am constantly seeing and hearing things that really need to be manifested as visual. In any given day I probably get 30 ideas for pieces. That's the easy part but what's more difficult is trying to decipher if it merits the…
I am grateful for community. For me, I find the most healing when I find community with others living with HIV. When I can share and hold space with another survivor (anyone still living with the virus is a survivor). It means the world to meet another person, who is a survivor of all the…
L'Orangelis Thomas Negron January 31st San Juan, Puerto Rico Lo más práctico que aprendí del amor, fue durante el proceso de sanación de la última depresión que sentí después de verano. El proceso de la sanación es, para mi, un ciclo de apoderamiento sobre conciencias, herramientas, narrativas y poderes, que nos mueve de un punto…
For more than Thirty years, The same doors swing open, While rusty ones slam shut. I am and have been HIV-positive 11,000 days. Why is this virus different than a cold virus? Why do rules bar me from certain pleasures? What difference did it ever make to most people? How come the world forgot to…
By Wanda Hernandez Parks Chair on the board of Directors of Vocal-NY, cofounder of the Women Empowerment Art Therapy group, with Shirlene Cooper. I have encountered many great organizations, but only one connects art and activism. I became a member of Visual AIDS in 2014, when I attended the Love Positive Women event. I immediately…
. It is nothing new that there is a project of extermination on course, it did not begin yesterday and it will not end tomorrow… a project that aims at profit and that is managed by the market… In which some bodies are more "dieable" than others. The subject with rights is the cis-hetero-white man,…
Being invited to write as an artist, to be celebrated for the campaign Positive Affirmation Day, felt great. I had a sense of pride, a warmth, a worthiness, feelings that I am learning to cultivate, so sure, I'll support Love Positive Women, tell me more… "Luv til it hurts" "Ummm" Now I feel unsettled,…
The definition of an artist collective is, an initiative that is the result of a group of artists working together to achieve a common objective, this is also the definition of "Catwalk4power". That most of the women involved would not describe themselves as artists or link the development of the most "empowering evening ever" to…
Deloris Dockrey How do you love yourself! When you are told that you are worthless, no good and lazy. When you are told that you are fat and useless. When you begin to internalize people's opinion of you. You rise above people's opinions and you rely on you. You see the beauty in your life.…
LOVE POSITIVE WOMEN (LPW) happens each year between February 1st–14th. It is a global project, conceptualized in 2012 and implemented in 2013, raising awareness about women and girls living with HIV using social media to link local grassroots gestures of love. Using Valentine's Day as a backdrop, Love Positive Women creates a platform for individuals…
Piece: $oropositivaCollage on greaseproof paper and serigraphy30x 40 Micaela Cyrino, 30, is a visual artist and militant of sexual and reproductive rights, blackness, and HIV / AIDS, in her artistic work and in her participation in groups such as Coletivo Amem. She graduated in Visual Arts from Santa Marcelina University. (São Paulo, Brazil)
1. Across generations of continentsWhat do it mean to be haunted? by a virus. A bluegrassgrandma in Sparta, Tennessee died today; So did Ntozake Shange. I wonder is it was they knew each other?Ntozake and grandma? the yellow / the red / the Asian pacific islander /the poor poor white / the black /…
As I have struggled at the many crossroads in my life, I have never thought one day I will embrace such thing that I used to disregard in my everyday life, and even carry it go on a journey for staying alive.
Hi all this is a report that the musician that worked with me producing and thinking the music of my last completed worked named "Fantasia casi soneto después de una lectura de dan(c)e" sent me
My community mother, Darien Taylor, was one of the first women living with HIV to do direct action with AIDS ACTION NOW! in Toronto in the late 80s – she's seen a lot.
Coletivo Amem is a São Paulo-based artistic collective that promotes festivals, performances and debates focusing on race, class, gender, and public health.
PORTRAIT OF AN ORAL HISTORY BETWEEN KARION LIU & THEODORE (ted) KERR A.He is an artist and I am a writer. We call each other Kai and Ted. We are both short, cis-gender, gay men. He has black hair. I don't have hair. We are from different parts of the world. I am from Canada,…
My upstairs neighbor, Carué is a medical doctor and AIDS activist. While he doesn't front as artist, he has a cool project (that occurs to me as artistic) by which he asks for a piece of clothing.
Opening Reception: Thursday, October 18 from 6-8pm Exhibition dates: October 18-28, 2018 El Museo de Los Sures 120 South 1st Street, Brooklyn, NY 11249
Event: New generations of HIV/AIDS strategies 6-8:30pm, Saturday, Oct. 27th The Center 208 W 13 St New York, NY 10011